This article is a stub
You can help Pleasant Goat Wiki by expanding it.
The Athletic Carousel (Chinese: 竞技大联盟) is the eighth season of the Pleasant Goat and Big Big Wolf series.
Plot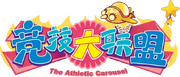 A goat sports game that is held every four decades just finished but Weslie and his friends start a league again. There're argali, antelopes, robotic goats coming to Green-Green Grassland to participate the league. Wolffy of course would like to join too. Will the league be different from the sport game that just finished?
Donghua
Pleasant Goat and Big Big Wolf (August, 2005)
Pleasant Goat Sports Game (October, 2008)
Joys of Seasons (May, 2010)
Around the World in 20 Days (August, 2010)
Smart Dodging (June, 2011)
Happy, Happy, Bang! Bang! (October, 2011)
The Athletic Carousel (June, 2012)
The Happy Diary (December, 2012)
Happy Formula (July, 2013)
Paddi the Amazing Chef (December, 2013)
Dear Little Wish (July, 2014)
The Tailor's Closet (September, 2014)
Love You Babe (February, 2015)
Everyday Pleasant Goat (July, 2015)
Adventures in the Primitive World (August, 2015)
Marching to the New Wonderland (January, 2016)
The Little Detective (July, 2016)
Pleasant Goat Fun Class: Animals & Plants (July, 2016)
Pleasant Goat Fun Class: Sports are Fun (July, 2016)
Man Jing Tou (November, 2016)
Adventures in the Sea (January, 2017)
Mr.Wolffy, Mr.Right! (February, 2017)
War of Invention (July, 2017)
Pleasant Goat Fun Class: The Earth Carnival (July, 2017)
Pleasant Goat Fun Class: Travel Around the World (December, 2017)
Flying Island: The Sky Adventure (January, 2018)
Pleasant Goat Fun Class: Idiom World (February, 2018)
Pleasant Goat Fun Class: Finding Treasures (February, 2018)
Mighty Little Defenders (January, 2019)
Rescue Across Time (July, 2019)
The Intriguing Alien Guests (January, 2020)
Against the Dark Force (July, 2020)
Mighty Goat Squad (August, 2020)
Dunk for Victories (January, 2021)
Ultimate Battle: The Next Generation (July, 2021)
Mighty Goat Squad 2 (November, 2021)