Jurassic World: Dominion Dominates Fandom Wikis - The Loop
Play Sound
Pleasant Goat Fun Class: Sports are Fun (Chinese: 智趣羊学堂 运动篇) is the ninteenth season of the Pleasant Goat and Big Big Wolf series and the second season of the Pleasant Goat Fun Class series. Its opening theme song is "Pleasant Goat Fun Class" by Purple Lee, and its ending theme is "Don't Think I'm Only a Goat" by Ivy Koo.
This season, along with the one directly preceding it, was given an English dub by Miao Mi. It also has a CPE dub, which started airing on August 7, 2021.
Plot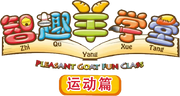 Weslie and Wolffy become an athlete and a journalist to show kids how interesting and charming sports can be. Traveling together back to the past, kids learn the origin of sports and participate in the sports game to promote the positive sport spirit. It unfolds athletes' stories from thorough interviews and shares tips for doing sport with kids and parents through interesting interactions with Weslie and Wolffy, from which kids not only learn sport spirit, ways of doing sport and competition rules but also a healthy and happy lifestyle.
Episodes
No.
Title
Scripted by
Directed by
01
"

Kick that Soccer Ball

"[1]
"Ràng Zúqiú Dòng Qǐlái" (让足球动起来)
Liu Feng
Liu Wei
Liang Jiaqi
02
"

Persevere through the Marathon

"[2]
"Jiānchí Bùxiè Mǎlāsōng" (坚持不懈马拉松)
Li Disi
03
"

Diving is Intense

"[3]
"Huólì Tiàoshuǐ" (活力跳水)
Lu Yiyong
04
"

The Joy of Swimming

"[4]
"Yóuyǒng De Lèqù" (游泳的乐趣)
Li Disi
He Xiaowei
05
"

Flying on Skis

"[5]
"Fēi Yībān De Huáxuě" (飞一般的滑雪)
Lu Yiyong
06
"Dashing for It! Tennis!"[6]
"Bēnpǎo Bā, Wǎngqiú" (奔跑吧,网球)
Li Disi
Liang Jiaqi
07
"

The Artistic Gymnastics

"[7]
"Yìshù De Tǐcāo" (艺术的体操)
08
"

The Brilliant Shooting

"[8]
"Jīngcǎi De Shèjī" (精彩的射击)
He Xiaowei
09
"

Hot-Blooded Volleyball

"[9]
"Rèxuè Páiqiú" (热血排球)
Liang Jiaqi
10
"

Pitter Patter Water Polo

"[10]
"Pā Tà Pā Tà Dǎ Shuǐqiú" (啪嗒啪嗒打水球)
He Xiaowei
11
"

Curling is Fun

"[11]
"Hǎowán De Bīng Hú" (好玩的冰壶)
Zeng Lingling
Lai Zhixuan
12
"

Focus on Billiards

"[12]
"Zhuānzhù De Táiqiú" (专注的台球)
Liang Jiaqi
13
"

Hitting New Heights in Pole Vault

"[13]
"Chēng Gān Tiàochū Xīn Gāodù" (撑杆跳出新高度)
Lai Zhixuan
14
"

The Elastic Trampoline

"[14]
"Tántiào Bèngchuáng" (弹跳蹦床)
15
"

The Beating Drums of the Dragon Boats

"[15]
"Gǔ Shēng Dōng Dōng Sài Lóngzhōu" (鼓声咚咚赛龙舟)
Li Disi
Liang Jiaqi
16
"

Whirlwind Taekwondo

"[16]
"Xuànfēng Táiquándào" (旋风跆拳道)
Zeng Lingling
Lai Zhixuan
17
"

Breaking Limits in Triple Jump

"[17]
"Túpò Jíxiàn Sān Jí Tiào" (突破极限三级跳)
Li Disi
He Xiaowei
18
"

Little Ping Pong Balls

"[18]
"Xiǎo Xiǎo Pīngpāng Qiú" (小小乒乓球)
Liang Jiaqi
19
"

Bowling for Everyone

"[19]
"Dàjiā De Bǎolíngqiú" (大家的保龄球)
Lu Yiyong
He Xiaowei
20
"

Charging through the Hurdle

"[20]
"Kuàlán Xiàng Qián Chōng" (跨栏向前冲)
Lai Zhixuan
21
"

Badminton is Easy

"[21]
"Qīngpiāopiāo De Yǔmáoqiú" (轻飘飘的羽毛球)
Li Disi
22
"

The Amazing Triathlon

"[22]
"Liǎobùqǐ De Tiěrén Sān Xiàng" (了不起的铁人三项)
Zeng Lingling
He Xiaowei
23
"

Swishing by with Ice Skating

"[23]
"Shuā La Shuā La Huábīngle" (唰啦唰啦滑冰了)
Lai Zhixuan
24
"

Let's Play with the Hula Hoop

"[24]
"Yī Qǐlái Wán Hūlā Quān" (一起来玩呼啦圈)
He Xiaowei
25
"

Kicking Shuttlecock is Fun

"[25]
"Hǎowán De Jiànzi" (好玩的毽子)
Lu Yiyong
Liang Jiaqi
26
"

The Dynamic Basketball

"[26]
"Huólì Lánqiú" (活力篮球)
Li Disi
Lai Zhixuan
Donghua
Pleasant Goat and Big Big Wolf (August, 2005)
Pleasant Goat Sports Game (October, 2008)
Joys of Seasons (May, 2010)
Around the World in 20 Days (August, 2010)
Smart Dodging (June, 2011)
Happy, Happy, Bang! Bang! (October, 2011)
The Athletic Carousel (June, 2012)
The Happy Diary (December, 2012)
Happy Formula (July, 2013)
Paddi the Amazing Chef (December, 2013)
Dear Little Wish (July, 2014)
The Tailor's Closet (September, 2014)
Love You Babe (February, 2015)
Everyday Pleasant Goat (July, 2015)
Adventures in the Primitive World (August, 2015)
Marching to the New Wonderland (January, 2016)
The Little Detective (July, 2016)
Pleasant Goat Fun Class: Animals & Plants (July, 2016)
Pleasant Goat Fun Class: Sports are Fun (July, 2016)
Man Jing Tou (November, 2016)
Adventures in the Sea (January, 2017)
Mr.Wolffy, Mr.Right! (February, 2017)
War of Invention (July, 2017)
Pleasant Goat Fun Class: The Earth Carnival (July, 2017)
Pleasant Goat Fun Class: Travel Around the World (December, 2017)
Flying Island: The Sky Adventure (January, 2018)
Pleasant Goat Fun Class: Idiom World (February, 2018)
Pleasant Goat Fun Class: Finding Treasures (February, 2018)
Mighty Little Defenders (January, 2019)
Rescue Across Time (July, 2019)
The Intriguing Alien Guests (January, 2020)
Against the Dark Force (July, 2020)
Mighty Goat Squad (August, 2020)
Dunk for Victories (January, 2021)
Ultimate Battle: The Next Generation (July, 2021)
Mighty Goat Squad 2 (November, 2021)

The Great Rescue

(2022)
References
Other languages: Chinese