This article is a stub
You can help Pleasant Goat Wiki by expanding it.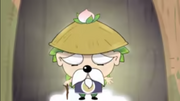 The Peach God is a character introduced in Joys of Seasons, in episode 72 ("Peach Garden Fairyland").
Appearance
He has a yellow-brown hat with a peach on top and has a leaf. He has a purple outfit with a yellow circle in the middle, dark green pants and black shoes. Since he is old, he has white eyebrows and a white beard and has a cane just like Slowy.
Personality
He is wise and very slow. He often greets people when they arrive at Peach World.
History
His history is unknown.
Video