Jurassic World: Dominion Dominates Fandom Wikis - The Loop
Play Sound
This article is a stub
You can help Pleasant Goat Wiki by expanding it.
Happy Formula (Chinese: 开心方程式) is the tenth season of the Pleasant Goat and Big Big Wolf series. Both the opening and the ending themes are "Don't Think I'm Only a Goat" by Ivy Koo.
Plot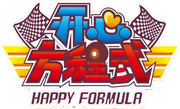 A mysterious force landed on the Green Green Grassland, and the Goats on the grassland were each gifted a unique vehicle of their own. Not only do their new vehicles can express emotions, they even have their own thoughts: they soon become friends with the Goats. However, the Wolffy is always after the Goats, he also made himself a high-tech vehicle. and thus creates an exciting adventure in the Green Green Grassland.
Trivia
Episode 10 of Happy Formula is the 1,000th overall episode of the Pleasant Goat donghua.
Donghua
Pleasant Goat and Big Big Wolf (August, 2005)
Pleasant Goat Sports Game (October, 2008)
Joys of Seasons (May, 2010)
Around the World in 20 Days (August, 2010)
Smart Dodging (June, 2011)
Happy, Happy, Bang! Bang! (October, 2011)
The Athletic Carousel (June, 2012)
The Happy Diary (December, 2012)
Happy Formula (July, 2013)
Paddi the Amazing Chef (December, 2013)
Dear Little Wish (July, 2014)
The Tailor's Closet (September, 2014)
Love You Babe (February, 2015)
Everyday Pleasant Goat (July, 2015)
Adventures in the Primitive World (August, 2015)
Marching to the New Wonderland (January, 2016)
The Little Detective (July, 2016)
Pleasant Goat Fun Class: Animals & Plants (July, 2016)
Pleasant Goat Fun Class: Sports are Fun (July, 2016)
Man Jing Tou (November, 2016)
Adventures in the Sea (January, 2017)
Mr.Wolffy, Mr.Right! (February, 2017)
War of Invention (July, 2017)
Pleasant Goat Fun Class: The Earth Carnival (July, 2017)
Pleasant Goat Fun Class: Travel Around the World (December, 2017)
Flying Island: The Sky Adventure (January, 2018)
Pleasant Goat Fun Class: Idiom World (February, 2018)
Pleasant Goat Fun Class: Finding Treasures (February, 2018)
Mighty Little Defenders (January, 2019)
Rescue Across Time (July, 2019)
The Intriguing Alien Guests (January, 2020)
Against the Dark Force (July, 2020)
Mighty Goat Squad (August, 2020)
Dunk for Victories (January, 2021)
Ultimate Battle: The Next Generation (July, 2021)
Mighty Goat Squad 2 (November, 2021)

The Great Rescue

(2022)